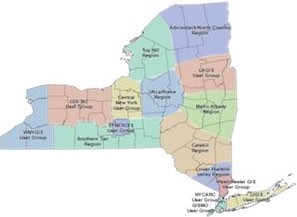 The NYS GIS Association represents the interests of the entire geospatial community within New York and is the premier statewide professional organization for GIS and related industries. The Association is uniquely positioned to advocate in the state and nationally on issues of importance to the GIS industry (e.g., legislation and funding), reach out to sister organizations in other professions in building strong collaborations, and provide a statewide forum for advancing our profession through shared experiences, learning and training. Downloadable brochure (PDF).
New and Improved Store Available NOW

As many of your know we have been offering NYS GIS Association merchandise. We've gotten many positive responses as we've displayed the merchandise throughout the state. To better serve you we have improved our store by moving to a different company. Check out the new webstore.
Save the Date! 27th Annual GIS/SIG Conference, Tuesday, April 10, 2018, Burgundy Basin Inn, 1361 Marsh Road, Pittsford, New York 14534 (Please note the one lane bridge will be closed due to NYSDOT bridge repair) Keynote Speaker - We are excited to welcome our keynote...
read more
Becoming a member of the NYS GIS Assoc. is one of the best things I've done for my career! Events such as the summit and annual conference help provide critical professional connections as well as some good friendships while keeping me up-to-date with recent developments in the industry and across the state.
Mike Schifferli