The NYS GIS Association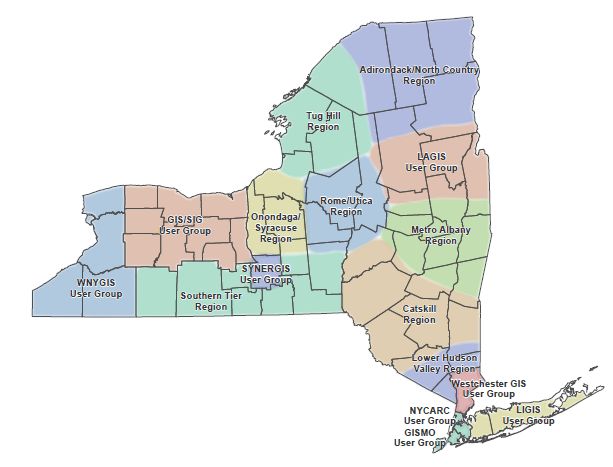 represents the interests of the entire geospatial community within New York and is the premier statewide professional organization for GIS and related industries. The Association is uniquely positioned to advocate in the state and nationally on issues of importance to the GIS industry (e.g., legislation and funding), reach out to sister organizations in other professions in building strong collaborations, and provide a statewide forum for advancing our profession through shared experiences, learning and training. Downloadable brochure (PDF).
NYGeoCon 2015

SAVE THE DATES: October 28-30, 2015 at the Hilton Albany in Albany, NY.
Registration now open on website
Website

Membership Worth 44x
Your membership is worth 44 times its cost. It's true! Many dedicated people work hard on your behalf to promote training and networking opportunities and influencing major issues affecting the state-wide GIS community. Check it Out! Join now and your membership is good through 6/30/2016 (membership year is 7/1-6/30)!
Field Data Collection Seminar
Learn about new options for turning outside data inside information.
August 11th, 2015
9:30am -12:30pm
137 Jay Street
Schenectady, NY 12305
The seminar is free but registration is required. Register Here
Emerging GIS

The NYS GIS Association is pleased to announce that it has received a generous $10,000 grant from the Fund For the City of New York to determine the GIS needs and resources in local government throughout New York State. We look forward to furthering our mission to support development of GIS throughout New York State by embarking on this new endeavor. If you are interested in participating as an active volunteer on the project team, please contact Susan Nixson, president NYS GIS Association, at snixson@gmail.com with Grant Project Team in the subject line.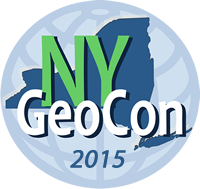 Registration for the 2015 NYGeoCon is Now Open! Limited Space is Available for the Technical Workshops. Sign Up Today! The NYS GIS Association is pleased to announce that registration for the 2015 NYGeoCon is now open. The 2015 NYGeoCon will be held at the Albany... read more
Becoming a member of the NYS GIS Assoc. is one of the best things I've done for my career! Events such as the summit and annual conference help provide critical professional connections as well as some good friendships while keeping me up-to-date with recent developments in the industry and across the state.
Mike Schifferli
With the rapid pace of developments and changes in Geospatial Technologies, it is very hard to stay current. I appreciate that the NYS GIS Association provides many ways to stay informed with webinars, tutorials and meetings such as the NYGeoCon and NY GeoSpatial Summit. As someone who is the sole GIS support for my organization, this helps me to feel connected to the larger community of geospatial professionals. As an educator, I appreciate the opportunity students are given to present at the NYS GIS Association's professional meetings.
Carol Cady