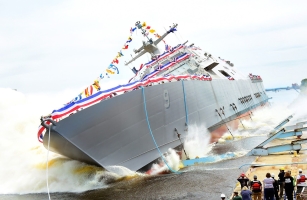 Next Event: Summer Social 2017: USS Little Rock @ Canalside Naval Park
THURSDAY, AUGUST 24
USS Little Rock @ Canalside Naval Park
5:30 – 11:00 PM
The Western New York GIS Users Group would like to invite
you to the USS Little Rock for a fun evening of conversation, food, and drink. Situated directly
next to Canalside, the USS Little Rock provides sweeping views of the Buffalo River, Lake Erie, and
the thriving waterfront area of the City of Buffalo. Being the only guided missile cruiser on
display in the U.S., it's a perfect opportunity to explore the deck with friends & family.
The event is open to all. If you want to learn more about the WNY GIS Users Group, GIS/mapping,
technology, or just want to have a great time, this is the place to be.
Tickets:
● Adult (Members) 18+, $20
● Adult (Non-Members) 18+, $25
● Adult (At the door) 18+, $30
● Children w/parent 12-17, $5
● Children w/parent under 12 Free
Access to the USS Little Rock
Rain or Shine Event (Canopy Above)
Tickets also INCLUDE a variety of appetizers, drinks, (beer, wine, pop) and music.
Purchase Tickets Here http://wnygis2017lr.bpt.me
The USS Little Rock is a Cleveland class cruiser in operation from 1945 until 1976. It is the sole
survivor of the Cleveland class of warships. The ship is 610 feet long and has a displacement of
10,670 tons. It's the only guided missile cruiser on display in the U.S. A new USS Little Rock will
be commissioned alongside the old Little Rock at canal side later this year!
Social
fb.com/wnygisusergroup
Membership
https://www.nysgis.net/regions/westny/
Jim Jones
WNYGIS Steering Committee Chair
https://www.facebook.com/WNYGISUserGroup/