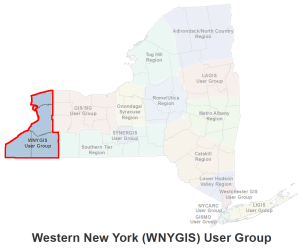 Jacob T. Needle, GISP
WNYGIS User Group President
Wendel
140 John James Audubon Pkwy, Suite 201,
Buffalo, NY 14228
716.688.0766
Please see the calendar for regional meetings.
Next Event: Sat. Sept. 27, 2014; 2:45 PM
This is the last chance to sign up for the WNY GIS User Group's Geocaching event in Lake Erie State Park where teams will compete for prizes.  Saturday is going to be a gorgeous sunny day and a great day for the Beach!!!  Geocaching is an exciting geography-based race where participants use a GPS to locate secret locations.  Teams consisting of two or three people will be formed at the event.  The first three teams to navigate the  course the quickest will win the event and be awarded a prize.  GPS units will be supplied to each team to use during the event.  View flier.
A post event GIS cookout will take place at the park.  Hotdogs and hamburgs will be served to all participants.  We will have a few bottles from 21 Brix Winery for tasting.
Date: Saturday September 27th, 2014
Time:  2:45 pm Sign In
3:00 pm Event Start
Location: Lake Erie State Park Check it out!!!!
5905 Lake Road,
Brocton, NY 14716
Parking: The park charges $6 to park.  The User Group will reimburse the parking fee.  Carpool if possible.