Western NY Users Group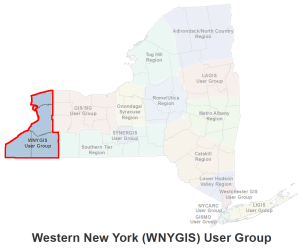 James B. Jones, PE, CFM, Town Engineer
WNYGIS User Group President
Town of Tonawanda Technical Support Dept.
2919 Delaware Ave.
Kenmore, NY 14217
(716) 877-8805
Please see the calendar for regional meetings.
Next Event
We are planning to have our spring educational event on Wednesday, May 25, 2016 at 4:30 PM. This is tentatively set to be held at the Main Court Building, 438 Main Street, Buffalo NY and we are planning to have about 4 presentations.
Please set aside this time in your calendars and we will get you additional details shortly.
Also, as a reminder, please renew your memberships (or Join if not a member) at the NYS GIS Association and remember to check the WNYGIS User Group membership box. Your support of the WNYGIS chapter helps provide these educational opportunities to stay informed and connected.