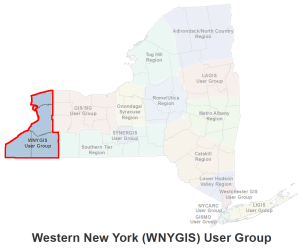 James B. Jones, PE, CFM, Town Engineer
WNYGIS User Group President
Town of Tonawanda Technical Support Dept.
2919 Delaware Ave.
Kenmore, NY 14217
(716) 877-8805
Please see the calendar for regional meetings.
Next Event:
4 Engaging Speakers: Crowd Sourcing, Mobile Data Collection, Open Source, & Coding!
Date: Thursday April 23rd
Time: 3:00PM – 5:ooPM
Location:
Dig Innovation Center at 640 Ellicott St, Buffalo, New York 14203
Speakers
Aaron Krolikowski from the University Tool Library will present on crowd source GIS data collection.
Bryan McBride from Fulcrum will present on their Open Source Data Collection resources
Eric Montz of Fisher Associates will present his Python Scripting project.
Jessica Setmire with "HERE Maps" (formerly Navteq and Nokia Location & Commerce) will present Map Creator
Join your fellow GIS professionals, seasoned and aspiring for a great afternoon of intelligent, educational demonstrations of GIS technology. Network and make new friends  what better way to spend an April afternoon?!
Social gathering to fallow at Ulrich's Tavern next door.