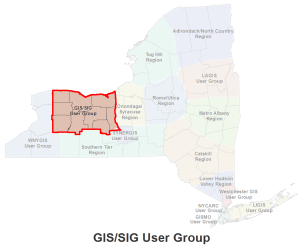 Dan Allen, GISP
GIS/SIG President
MRB Group
The Culver Road Armory
145 Culver Road, Suite 160
Rochester, NY 14620
ph:(585) 381-9250
Please see the calendar for regional meetings.
Next Event
GIS/SIG December Program
Presentation
Exploring Census Data Tools
Please join us for our December Program at the Pittsford Library. Razy Kased, Planner for Genesee/Finger Lakes Regional Planning Council, will be presenting on exploring native data tools produced by the Census Bureau and providing an insight to accessible Census data to compliment the users work process.  Lunch will be served following the presentation.
When
Tuesday December 16, 2014
11:30 AM – 1 PM
Where
Pittsford Library
24 State Street
Pittsford, NY 14534
Cost
$5 payable at the door
Register Online