NYGeoCon is less than 2 weeks away! Don't delay, register today! Click here to view pricing and to sign up. Review the schedule of technical presentations and their abstracts and see why you should plan to attend! In addition to the concurrent technical sessions, the conference schedule will include workshops, posters, a plenary presentation, keynote address by Mark Wheeler (see below!), time for networking, and more. Review the complete agenda.
View the Technical Session Schedule & Abstracts
Don't forget to book your overnight accommodations! The Syracuse Marriott is offering conference participants a discounted group rate of $159/night. A limited number of rooms are available at the Government per diem rate of $98/night on Monday and Tuesday nights (Sunday night is sold out, valid government ID required at check-in). The Discounted hotel room rate has been extended to Friday, September 13. Click here to make a reservation in the group block.
KEYNOTE SPEAKER: Mark Wheeler, City of Philadelphia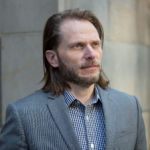 Mark Wheeler, AICP, GISP is the Chief Information Officer for the City of Philadelphia and director of the Office of Innovation and Technology (OIT). Under his leadership OIT has released the SmartCityPHL Roadmap and is transforming the department to adopt modular procurement, agile development, and a master data strategy. Mark previously served as Deputy CIO and Chief Geographic Information Officer and oversaw the release of public web tools Atlas, OpenMaps, and Vacancy to visualize and use City property data. Throughout his career Mark has pursued a passion for civic engagement and data-driven problem solving. He is a Citizens Planning Institute Advisory Board member and co-creator of the Neighbors Helping Neighbors Project  and Citizens Toolkit. Mark has previously worked as a professional planner and as a GIS consultant to state, local and regional governments in New York State and New England. He has a master's in regional planning from the University of Massachusetts.
Mark will be discussing his experiences as former GIO and now CIO for City of Philly including how GIS can be made central to operations and policy making and how Philadelphia was able to elevate GIS and incorporate open data and other "innovation" programs rather than compete with them for resources and attention.
ABOUT NYGEOCON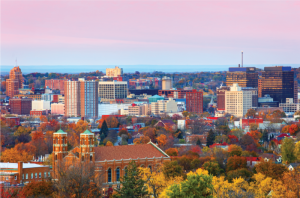 The conference schedule, posted on the NYS GIS Association website, will include pre-conference workshops on GIS for Educators and Integrating Drone and GIS Technology. Monday night's Informal Reception will be an epic GeoTrivia Team Challenge, where all are welcome to test their Geography knowledge! Tuesday and Wednesday include presentations and lightning talks from GIS professionals, a GIS poster session for professionals and students, drop-in GISP Certification consultation from NYS GISPs, the State of the State report from NYS GIO Frank Winters, and a Vendor Reception featuring our GIS industry-leading sponsors such as Consortech, EagleView Technologies, Geocove, Keystone Precision Instruments, MTS, and Esri.
LEARN MORE
Sponsor and exhibitor opportunities are available. Learn more about how you can get involved.
Visit www.nysgis.net/nygeocon2019 to learn more about the New York State GIS Association and NYGeoCon 2019.