New York State Esri ArcGIS Desktop K-12 License

For technical support for the installation of the software, please contact Mr. Darren Faccilonga, the Associate Director of Technology Based Learning Systems at NYIT (New York Institute of Technology), by e-mail at dfaccilo@nyit.edu or by telephone at 631.348.3317.
ArcGIS Online
For more information and help with ArcGIS Online, click here. There are other resources for using ArcGIS Online below.
ArcGIS Desktop

For more information and help with the ArcGIS Desktop software, click here.
 Other Training and Support Opportunities
 Calendar of Learning Opportunities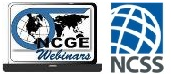 Webinar on Friday, September 3, 2014
8:00 PM – 9:00 PM EDT
Sparking Curiosity – Geography, the C3 Framework and the Inquiry Arc
Join this panel of classroom and content experts as they share how to spark your students' curiosity about the world through geographic reasoning. This is NCGE's first webinar of the academic year and it is in partnership with NCSS.
---


REGISTER​ for the free webinar​:  https://attendee.gotowebinar.com/register/6527190664680579329
Webinar on Friday, September 10, 2014
8:00 PM – 9:00 PM EDT
ArcGIS Online, ConnectED & GeoMentors – A Beautiful Friendship
Join Charlie Fitzpatrick, Esri's Schools Program Manager for his presentation on partnerships!
---

REGISTER​ for the free webinar​: 
https://attendee.gotowebinar.com/register/2004659646104720130
GeoFest 2014 – Celebrating the Empire State
Saturday, 18 October 2014 at Monroe Community College
Join the New York Geographic Alliance for a day of geography! There will be workshops on GIS, environmental science, the new Atlas of New York:  Legacies of the Erie Canal, and much, much more. Stay tuned for more details at :http://www.nygeographicalliance.org/events/eventdetail.cfm?eID=117