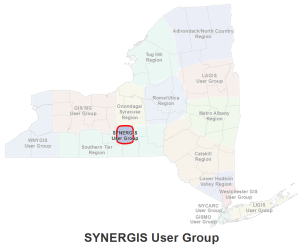 Ben Coakley
ph: (607) 607-277-0660
Email: bcoakley@boltonpoint.org
The Synergis Steering Committee (Ben Coakley, Emily Goldman, Nick Hollingshead, Keith Jenkins, Boris Michev, and Frank Popowitch)

We're always looking for more meeting topics, so if you have an idea for a future meeting topic, please contact any of steering committee members!
Next Event Friday November 21, 12:00 PM – 1:00 PM
For our November meeting, we'd like to give SynerGIS members an opportunity to introduce themselves and talk about how they use GIS. On Friday, November 21, please join us in Mann Library room 160 at noon, and be ready to give a short talk about your own particular GIS niche. Plan to talk for about five minutes; you're welcome to put together a few slides if you like, but we'd like to keep the talks short and informal. There are SynerGIS members using GIS to do all sorts of cool things. Come out and share your cool things with the most appreciative audience available: your fellow GIS users.
Mann Library room 160 in the far left corner of the 1st floor of Mann Library. Eating is permitted, so please feel free to bring along a brown bag lunch.
If you're planning to present, please RSVP to me (bcoakley@boltonpoint.org). We hope to see you there!
—
Ben Coakley, GIS / IT Specialist
Southern Cayuga Lake Intermunicipal Water Commission
bcoakley@boltonpoint.org / 607-277-0660 x222