NYC Area GISMO and NYCARC
Matthew A. Knutzen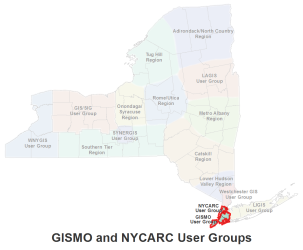 Geospatial Librarian
The Lionel Pincus & Princess Firyal Map Division
Stephen A. Schwarzman Building
The New York Public Library
5th Avenue & 42nd Street, Room 117
New York, NY 10018-2788
mattknutzen@nypl.org, 212-930-0562, fax 212-930-0027
Visit our website.
Next Meeting
On Wednesday, June 8th, GISMO will be holding a membership meeting from 11:30am to 1:30pm in the 6th floor conference room at the offices of the Fund for the City of New York (FCNY). FCNY is located at 121 6th Avenue (west side), between Watts and Broome Streets, two blocks north of Canal Street. The Canal Street stops of the 1, A, E, and C trains are nearby. Sandwiches and soft drinks will be provided by FCNY.
Aside from the usual GISMO intro's and announcements, we will have a number of presentations. The topic will be "GIS and NYC Elections." Our speakers will include:
Steven Romalewski, Director, CUNY Mapping Services, who will discuss the development of the NYC Election Atlas, election district geography, and recent spatial election tends in NYC.
Sam Hudis, GISMO Treasurer and GIS Manager for Competitive Advantage Research. Sam will speak about the geography of campaign finance.
Jon Reznick, Founder, Competitive Advantage Research. A campaign consultant with specialties across digital media and data research, Jon will discuss the use of location (and location-based data) in his work.
If you plan to attend, please RSVP because our space is limited.
This event will be "For GISMO Members Only" who are up to date on their dues. Check your membership status athttp://www.gismonyc.org/join-gismo-nysgisa/check-membership-status/.
If you are a lapsed member or non-member and wish to attend you have until COB Monday, June 6th go to www.nysgis.net and join. GISMO dues, $20 annually, also includes membership in the NYS GIS Association. GISMO membership for GIS students is free, however you must register a thttp://www.gismonyc.org/.
On behalf of myself and the GISMO Board of Directors, we are looking forward to meeting with you once again.
Sincerely,
Alan
Alan Leidner
President, NYC GISMO
GISMO Board of Directors: Amy Jeu, Wendy Dorf, Jack Eichenbaum, Noreen Whysel, Kevin Jenkins, Lisa Palmer, Timur Pozhidaev, Kristen MacFarlane; GISMO Treasurer: Sam Hudis