NYC Area GISMO and NYCARC
Matthew A. Knutzen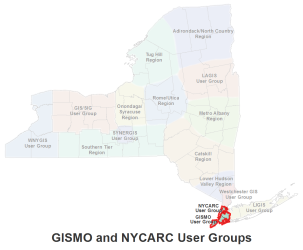 Geospatial Librarian
The Lionel Pincus & Princess Firyal Map Division
Stephen A. Schwarzman Building
The New York Public Library
5th Avenue & 42nd Street, Room 117
New York, NY 10018-2788
mattknutzen@nypl.org, 212-930-0562, fax 212-930-0027
Visit our website.
Next Meeting
There will be GISMO meeting on Wednesday, February 10th between 11:30am and 2:00pm in the main Conference Room of the Fund for the City of New York (FCNY) on the 6th floor of 121 6th Avenue, two blocks north of Canal Street. The Fund is easily walkable from the downtown civic center, and from Canal Street stations of the #1 Broadway Local and the A, C, and E lines.
A light lunch of sandwiches and soft drinks will be provided through the generosity of FCNY and we thank Fund President Mary McCormick for once again making meeting space available to GISMO.
The main event of the meeting will be a presentation by Doug Williamson, Director of Operations Research at the NYPD, describing GIS use by the Police Department. One of his main responsibilities there is the application of GIS and mapping to help the NYPD investigate complex issues, identify and solve problems, and make more informed decisions in their policies and strategies. The presentation will cover a brief historic overview of mapping efforts at the NYPD, past and current activities as well as future initiatives. Topics will include GIS software, open data and web/mobile mapping.
In keeping with the GISMO tradition, established by GISMO founder Jack Eichenbaum, at the beginning of the meeting all attendees will be given an opportunity to briefly introduce themselves. This meeting will also give members a chance to meet GISMO officers and members of the Board of Directors. GISMO President Alan Leidner will briefly review elements of GISMO's work plan for the coming year.
We are looking forward to seeing you all. Please RSVP by email "YES" to ajeu@hunter.cuny.edu so we can get an accurate count of attendees.
This event will be "For Members Only." If you are not a member and wish to join GISMO to attend this and future events. GISMO membership is a dual membership – you join as part of the NYS GIS Association AND GISMO for the low price of $20.  Join here: http://www.nysgis.net/joinus/
If you are a student, GISMO membership is free and also entitles you to membership in the NYS GIS Association. Just visit the GISMO website at www.gismonyc.org and register. Spread the word to your fellow students.