http://www.ligis.org/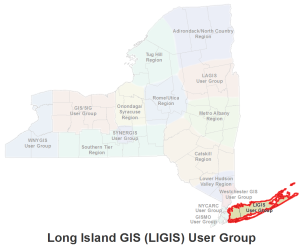 Ross Baldwin, GISP
LIGIS Chairperson
GIS Manager
Town of Southampton
116 Hampton Road
Southampton, NY 11968
P: 631.702.1994 | Dept: 631.702.1990
F: 631.283.6284
Fall Conference
I am pleased to announce the Fall 2014 Long Island GIS (LIGIS) User Conference at Brookhaven National Lab on Thursday, October 9th, 2014. Please see flier for agenda and additional info. Feel free to forward to anyone else you think may be interested.
We will be expanding on the specifics of the presentations in the near future.
Many thanks to Brookhaven National Lab for hosting this event!
Ross Baldwin, GISP
LIGIS Chairman / Town of Southampton GIS
631.702.1994 , mbaldwin@SouthamptonTownNY.gov   -or-   chairman@ligis.org
Please sign up @ www.ligis.org