http://www.ligis.org/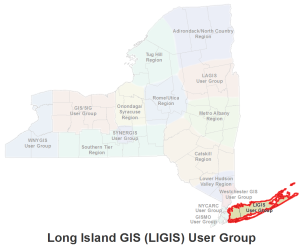 Ross Baldwin, GISP
LIGIS Chairperson
GIS Manager
Town of Southampton
116 Hampton Road
Southampton, NY 11968
P: 631.702.1994 | Dept: 631.702.1990
F: 631.283.6284
Spring Conference
Mark your calendar & join us at the 2015 Long Island GIS User Group Conference on April 30th at Brookhaven National Lab (Berkner Hall) – the largest meeting of geospatial professionals on Long Island!
Attendees can listen & participate in a wide range of geospatial presentations and meet with industry leading vendors.
Speaker List
Frank Giuffrida, Pictometry International: The Potential Impact of UAV Systems on Remote Sensing and GIS
David Kraiker, Data Dissemination Specialist: Census for the GIS user:  Tricks for downloading data & shapefiles
Colin Reilly, GIS Director, NYC Dept of Information Technology & Telecommunications: Overview of NYC DoITT Open Source Mapping and PlowNYC
Matt Martini, ESRI Account Executive: ArcGIS 10.3 Tips and Tricks & Operations Dashboard
It's easy to register and best of all – it's FREE! Click here to register.  ** Earn GISP Credit for attending **
For more information visit us at www.ligis.org  (Photo ID is required to attend the conference)
See you on April 30th!
Ross Baldwin, GISP